There is nothing wrong with competition—as long as it's wholesome. It leads to all sorts of good things. Game on.
In an earlier post, I mentioned Rodger Sedarat's book of poems, Ghazal Games; and how I was prompted by Kimiko Hahn to try the Ghazal form. Now Rodger himself, indirectly, has given me another prompt, with the self-satisfying opportunity to describe my long-lived relationship with tennis.
Rodger is, no doubt, a tennis fanatic and highly competitive; I am too; so of course, we arranged to play shortly after meeting in 2014. I've been in love with the game for most of my life; Roger is just getting started. At 58, I'm about 12 years older, in decent condition, but too heavy for my small frame; he looks in great shape—around six feet tall and wiry—just right for tennis. Two years after starting to play in high school in 1973, I took a summer job with the National Junior Tennis League teaching kids at the Crotona Park courts in the South Bronx; I've been teaching and competing at different levels ever since. I've lost a lot of my athletic ability in the last 15 years because of my age and injuries–no matter–with Rodger reporting steady improvement in his first few years, I was looking forward to hitting with him to get back on the path. Sadly, we missed a couple of appointments at Queens College, where he teaches. At that time, he came across as the more cutthroat competitor, liking Winning Ugly by Brad Gilbert; I can think of many other players I rather turn to for advice. Nevertheless, I liked Rodger's spirit and I'm always looking for competitive players; I encouraged him to get ready for USTA senior categories like the 45-and-overs. One injury or another has stopped me from playing in my first 55-and-over USPTA tournament. It's idiotic to try to play like I did in my twenties and thirties; apparently, this lesson has not been internalized yet; playing with younger and stronger opponents doesn't help…twisted my right knee playing against my 33 year-old son just this past summer; he has sledgehammer ground strokes and a whip of a serve. What does someone do without ego, even if it is reckless at times? And it's impossible to compete without risk-taking. I must be a hard die. 
Let's get to it. Rodger recently had a book of poems about tennis published: Foot Faults. My first reaction: shit! He did it. After giving him tips and encouraging him when we first met, he encouraged me to write a book like this. It's a good idea that I've had for years; but I never felt compelled to do it; I always found better things to think and write about. But now, wait a minute! Of course I had to buy his book; and after reading it (it's good!) what else but think why not write my own book of tennis poems. I have no illusions about ever matching Rodger's poetry craft; but that wouldn't be the point. The point would be to write poems about tennis and see what forms and content I come up with. Clearly, we have different poetry skill sets and our own particular relationship with the game: the poems would have to be dramatically different—as different as our fingerprints. 
The poems in this new blog category will be about tennis; but of course, like Rodger's poems, about more than tennis. I have to say Robert Fulghum got it right in his poem "All I Really Need to Know I Learned in Kindergarten." I'm looking to explore and see what life lessons are to be learned on a tennis court, an incredibly civilized space that contains the greatest game ever created by man on earth (yes, I said it). Tennis: the sport that is beautiful to watch at the highest levels and play with great enjoyment at any level; and when you want to compete demands that you perform individually with speed, muscle strength, agility, gross and fine motor skills, tactile sensitivity, endurance, flexibility, mental toughness, strategy, technique, psychology, eye-hand/eye foot coordination, recuperative power, creativity, and a tennis spirit that marshals together all of these attributes to produce one's performance on soft brown clay to green grass to hard concrete stages, under pressure, in the noonday sun–with or without an audience applauding you.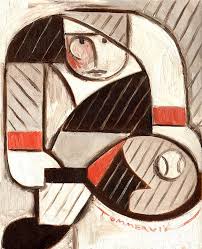 The Rogue Pro Delivers a Brutal Beginner's Lesson
                                                                                              
If                      you really want to learn the game, as you've been saying,
Now                is the moment
You                  need to do the obvious:
Stand              up and move your arms and legs;
Grab                a how-to book;
Read                it;
Observe          the greatest players;      
Find                 a fitting pair of sneakers, a solid racquet, a fresh can of balls;
Drill                 on a wall until you find
Someone       amenable willing to play with you.
If                      the above doesn't happen
By                    this time next year…maybe…just
Maybe…         you are conning
Yourself…      no one else.
Sitting            on a bench by the courts
Looking         at the hackers play,
Crying            about loss, that the kids won't see you, the end of days
Will                not turn you
Into                a player…
Or                   a poet.
Until next time,
keep writing.
Peace,
Andrés Castro