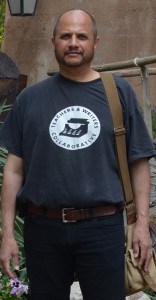 Work: lumber yard hired hand, NYC USPTA head tennis professional, national C.L.I.O study data collector, rehabilitation counselor, college academic counselor, Metropolitan Museum of Art Special Security Officer, NYC Dept. of Ed. Teaching Fellow, boys-to-men workshop facilitator, poetry workshop instructor, Creative Writing Club mentor, etc.
Education: Psychology BA (Queens College, CUNY), English BA (Queens College, CUNY), Creative Writing MFA (Brooklyn College, CUNY), Teaching of Creative Writing Post-MFA Cert. (Antioch U.)
PEN member, listed in the Directory of Poets and Writers,  founding editor of small press nonprofit poetry journals: The U.S. Latino Review  (1999-2001) and The Teacher's Voice (2004-2014).
Brooklyn-born, South Bronx-raised, my wife and I have lived in Queens, New York, since 1981. Our son and daughter flew the coop years ago. 

 *Available for public readings. I hope to release a manuscript of collected poems with a supportive publisher some day.