In my October 7 entry, I included a poem, "Knives," that was inspired by Gary Soto's "Oranges." I completed the poem as an assignment while a teaching assistant for Kimiko Hahn in her graduate class for teachers; she specifically asked for a central image. "Oranges" is an accessible narrative, filled with rich description and figurative language, about an interesting moment in a boy's life. On a cold winter's day, in a familiar hometown, he stops at a drug store to treat a girl to a candy (a first date), only to learn he doesn't have enough for the chocolate she picks out. Determined, not wanting to give away his predicament, he silently places an orange next to a nickel on the counter; the saleslady, with a knowing look, accepts the orange and coin. In the end, out in the cold day, he peels a second orange that, from a distance, might look like a small fire in his hands. Nice.
I'm not sure what made me respond to a poem about oranges and young love with a poem about knives and young love. My first thoughts: my childhood was not so sweet, and I wanted to go after Gary Soto's oranges with my knives. I've never met him; he's probably a very nice man. Now Martin Espada is another story; but let me not stray; later for him. Whether you like a certain poet or not, using his or her work as a springboard for your own is a poetic tradition. It's natural to be challenged, provoked, inspired, and sometimes moved to create after reading a stimulating piece. I should be reading and responding to much more work than I do. 
Kimiko also assigned Roger Sedarat's Ghazal Games and asked that we copy the Ghazal form, even if ghosting it (which simply means not strictly adhering to the form's demands). For those of you who do not know, the Ghazal is an ancient lyrical Persian form that consists of rhyming couplets and a refrain. Its themes traditionally revolve around love and separation; the couplets are not necessarily logically related or meant to create a narrative. Poets sometimes include their name in the final couplet. Finding a word pregnant with meaning and worthy of repetition is key. Ghazal Games was great fun and the Ghazal form does take you away from making predictable connections. If you want to present a logical argument go to the sonnet; if not and you are after divergent thinking, try the Ghazal. Below is one of my first attempts (recently revised).

Ghazal Me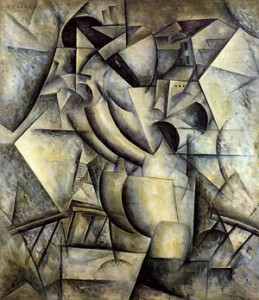 after reading Roger Sedarat's Ghazal Games
A boy's telephone game transmission
becomes twisted or lost in a wrong transmission.
Told  grandfather's ghost rattled keys in his room,
I slept there each night, yet…not one transmission.
Then came the ranting of the young Latina upstairs,
her crying three babies, her wrecked transmission.

Sweet Angel loved his body, long black hair, Christopher
Street. Who knew in `81 of a deadly transmission?

To the night, to the gamble, to Bliss digital, I analog,
whispering to achieve a Kundalini transmission.
Terribly miss my Limited Edition Black `96 Cougar,
her Mustang engine & smooth transmission.

Floating up from a surgeon's table, I cursed him!
Snapped back! Missed the White Light transmission!
Did you hear? The Great Pyramids were reverse
engineered to proudly broadcast our slave transmission.
What would U.S. semi-automatic Jesus lovers do
without their own book to quick-draw transmission?
Bulging intercontinental nuclear missiles cross:
our last Strangers in the Night transmission.
Escape is near. Andrés is my name, no matter the night,
before weaving in a dream transmission.
Revised May, 15, 2017
Until next time,
keep writing.
Peace,
Andrés Castro