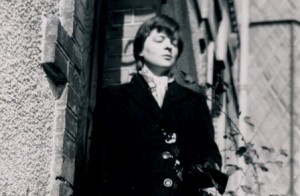 This blog's September launch includes a poem that describes my relationship with a betraying, yet fitting, heart; and how I've come to celebrate it as an emerging poet. The second entry highlights a role model, Marie Ponsot, who, having raised six boys and a girl as a single parent, just to mention part of her remarkable life, deeply understands the human condition. In the following piece, Marie describes a relationship with a certain betraying and essential heart. After spending time with this poem, I am once again humbled by Marie's artistry, reason, and own heart.
ONE IS ONE 
Heart, you bully, you punk, I'm wrecked, I'm shocked
stiff.  You?  you still try to rule the world — though
I've got you: identified, starving, locked
in a cage you will not leave alive, no
matter how you hate it, pound its walls,
& thrill its corridors with messages.
Brute.  Spy.  I trusted you. Now you reel & brawl
in your cell but I'm deaf to your rages,
your greed to go solo, your eloquent
threats of worse things you (knowing me) could do.
You scare me, bragging you're a double agent
since jailers are prisoners' prisoners too.
Think!  Reform!  Make us one.  Join the rest of us,
and joy may come, and make its test of us.

Last night, I went to see Marie at an event being held in her honor at St. Joseph's College in Brooklyn, her alma mater, class of 1940. Marie turned 95 in April and suffered a stroke several years ago that has, it hurt to learn, impaired her. She is and isn't who I remember. It reassures me to know that she would never stand for self-pity; her warnings about the dangers of self-pity stay with me. Last night, I want to believe, I was once again in the presence of, however frail, one tough cookie.

How very lucky to have Marie as my first workshop instructor at Queens College before she left in 1991. At 32 years-old, for very good and very bad reasons, I was finally close to graduating with a BA in psychology; it had taken me ten long meandering years; and still adrift, newly attracted to poetry after an introductory course, I enrolled in Marie's workshop without knowing who she was. She was impressive at first meeting; with each class the impression grew deeper. Marie works on you.

She started the first classroom meeting with an iconoclastic declaration: she would smoke cigarettes during our sessions; for those that found it a problem, she suggested withdrawing. No one did, in spite of her chain-smoking through most of that first class and others. She let us know quickly that she was for real; take her or leave her. Marie, masterfully, brought us to a deeper understanding of poetry by having us read, write, and discuss classic forms like the sonnet and villanelle; while subtly teaching us much more than a poetry curriculum. Here is just one remembrance: an affirmation.
Marie's class was over; everyone was milling around; I remained seated next to a woman a little older than me that had taken on a an impenetrable condescending attitude and would not listen to anything I had to say. Marie overheard; she got me; she walked by and just when this woman turned her head away from me, Marie, with that twinkle in her eyes and a wisp of a smile, softly said so I got the message: just keep trying, you'll find the right words…without breaking her stride.

I so wanted to find the right words, write the right poems, for Marie that I asked her for an incomplete, so I could get my work (myself) together. Again, she got me: no worries; it's about the work and play with words; timelines and grades are not what really matter. Don't take too long though. I believe I asked for a second incomplete and she left Q.C. before I handed in my poems. The incomplete turned into an F I think; but I don't remember it bothering me. I didn't keep in touch, thought about reaching out over the years, just didn't do it.

I have to wonder: if I'm so concerned about delivering the right words, why do I so often flounder, especially with women who have mattered and matter most to me: mother, sister, wife, daughter, other women I continue to love. Do I just want too much? Need too much? Need to make grand gestures? Need perfection? Idealize beyond recognition? Forget who I'm talking to? Forget who I am? Know who I am? Ouch: this last one worries me. Even as recently as last night, with Marie, someone who I especially wanted to tell how much she mattered, I fell short, felt inadequate, was inadequate; I blundered plenty…
Marie needed help getting up on the stage and then had enough energy to read a couple of poems. I was the first to reach her as she sat down at a little front right stage table. I gave her a small press journal with one of my poems, saying it had to do with her. She smiled like I remembered–never spoke. As she was signing my copy of The Green Dark, I told her my name, hoping she would include it. She didn't. When I gave her my thanks before leaving, she was looking down and didn't look happy. Where was my parting smile? A word? Not even eye contact. That I got not a word or a smile in the end bothered me all the way home and still does. Did I say the wrong thing? Did I make too much of an autographed book instead of her? Was she looking at the little magazine I gave her? The front cover photograph of a young black father holding a premature newborn in his hands as he kissed her forehead, her little left arm dangling? Why bring this to Marie of all things? Of all things! I gave Marie a black and white copy of a poetry journal titled Pilgrimage, its theme sleep, with photos taken of mothers and fathers cradling their dead babies. Of all things to give her on this occassion! Idiot. Why not forget the books from the start and say simply "You were one of the greatest teachers I've ever had; I'll forever thank you; this red rose is for you." Give her a rose? Not too grand a gesture. I remember Marie talking about trying to give just the right portion. Not too much, not too little. Not too easy.
Was she simply at the mercy of her age and the effects of her stroke? Looking ahead at a line of admirers and conserving what little energy she had left? This is likely: feels better to land here…still…
This is the poem included in the journal; it is not even the poem I thought I was giving her. Idiot! Or not.
Knives
               — after Gary Soto's "Oranges"

Who didn't carry one?
Saw enough knives on the block—
stupid shit lead to stabbings,
scared to leave home at night
without one in my pocket.
Even sweet dark Sadie had a blade—
cracked a Coke bottle on the curb
one day in a pinch, so you learn.
On a basement party drunken bet,
black-lit zodiac posters glowing,
Chi-lites singing Have You Seen Her,
Sadie tongue kissed me…a mint
ten minutes and twelve seconds…
her idea. My gold-stamped 007
held six steel inches in tanned handle.
Quick draw arm drop and gravity
yanked the blade out—snap!
Fuck with me now motherfucker.
Not that I ever said that to anyone.
When the Savage Skulls' Warlord
said lose the peace sign jacket
or lose that pretty face, I said, no
problem. If he had asked for my 007
peeking from back pocket as I split,
its twisted little rawhide tail dangling,
I suppose looking back, it was his.
Sadie saw it all from her front stoop—
called me a punk as I reached her
before turning and leaving me flat.
Left the 007 on my jacket at her door.

I thought I was giving her the following poem; and it is still probrably not right for the occasion. I imagine she could be the white teacher; I imagine I could be the old man, Blue, and others. See her eyes in the end.
Our River
Blue's grandpa, a dark Paiute,
was sent to government
boarding schools that took
him far from this reservation…
that cut his hair, took away
his mother's tongue, his ability
to resist. Now he smolders
in a corner, will not speak
when I visit, sees past me.
Or does he see me enough
to feel I am too white, a curse.
Will he tell me if I ask him
how Blue died? Resistance
takes forms I don't understand.
I was Blue's teacher…more…
more…I need to understand more
than I do: how a quest took him
to our river to find ancestors who
would take away his anger, now
we've all lost the boy, the man.
How many days did he hang
from that tree near our river?
Did he see visions of ancestors?
Did he search for past or future
in the mirrors of those waters?
Old man, my blood is also red;
more of our young will follow
him; I refuse to believe our elders
will not be there to turn them.
I believe I see one standing
by your side, old man; his eyes
are ancient pools…and very kind.




Why do we write? — especially poetry? I have a number of reasons; not all equal in value, some probably ridiculous. That I am manipulative should be clear. I do know that smile, that twinkle in the eyes of someone special seems more important to me now than ever before. And last night I blew it again. Or not.
Thank you too, Marie, "for all the joy."
What' s in a name?
Until next time.
Keep writing.
Peace.
Andrés Castro