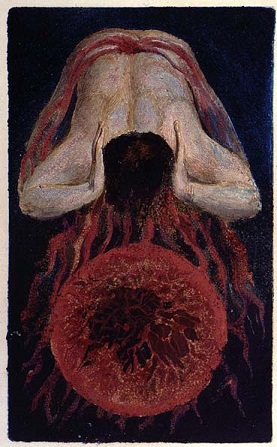 Where are You on Religion?
Does it play a role in your life? It's hard to imagine the world growing up without it; but some people use religion to justify the most bizarre behavior. Christianity, Judaism, and Islam especially perplex me. Here in the U.S., I've never fully understood how anyone could call themselves Christian, go to church, and then proceed to wipe out millions of Native Americans; take their land; place their descendants on reservations; kidnap and enslave millions of Africans for 400 hundreds years; oppress them to this day; reduce anyone and anything to a commodity since the founding of the country; drop more bombs on innocent civilians around the world after World War Two (The War to End All Wars!) than all other nations combined, spend almost as much on a military budget as all nations combined, imprison more of its own (deliberately?) miseducated population (by far!) than any other nation in the world—I could go on and on. No need—I love my Christian brothers and sisters; I may be one of them; we see the handwriting on the whiteboard; we say we love America—God bless it.
Let's (Ex)change Tracks
Nature Walk
                       Kamakura, Japan
An old bald monk, wrapped
in heavy grey cloth, slowly moves
forward on a slated footpath—
to an ancient shrine set
in a misty clearing. Temple
ahead, rather than continue
straight down to a bend
leading to its entrance doors,
he cuts
through The Shrine's garden
of
rocks and negative space.
Beneath each
sandal's step—
crunching
of
gravel sounds—
like rice being
threshed—
sifted.
                                                                        
                            Andrés Castro
Mexico, Land of Bugambilia
*By Venerable Samu Sunim

                                              
Bugambilia is called "Four-o'clock,"
for they flower in the afternoon
throughout the year.
 
Its flowers are homeless.
They grow out of small trees, shrubs, or herbs.  
Often, they climb fence or vine or other trees
to contest their tropical beauty in bright red, pink, yellow, or white.
 
Having myself indulged on the ways     
of tropical flowers–suddenly an old rooster belched 
out his cockcrow to remind me that it's Four-o'clock
in the South.
 
I looked around bewildered.
A young vendor sitting under a palm tree
called me hard with waves of the hand.
 
In no time he pulled out a machete and started
cutting a coconut. Coconut juice was 20 pesos, add  
two spoonful of mescal 50 pesos. 
 
Another three big spoonfuls of tequila will make me  
cocoloco. He said, "Cocoloco will change all bad times
into good times. They are all from cactus, very good."
 
For a moment I felt like a modern Rip van Winkle for my loss of memory.   
Then the Mad Monk Jung Kwang walked right into my heart.
Jung Kwang wanted to become the Dirty Mop to clean
the missteps of people. Mad Monk wanted to live free from obstacles.
 
Jung Kwang wanted to be born as a woman in the next life.
Where are you? I like to take you to pulque pubs and cantinas.
*Permission to reprint given by Ven. Samu Sunim, Zen Buddhist Temple- New York
   
Where is Religion on You?
I've been fascinated by religion since I can remember. My family is from Puerto Rico and religion was all over us. I was exposed, before my teens, to Roman Catholicism, Protestantism (Pentecostal), Santeria, and Spiritualism. I grew up hearing all about heaven and hell, about angels, and, when needed, exorcists. In 1966, I visited Puerto Rico when I was eight and became deathly ill—probably caused by food poisoning. After a few days and getting worse, my family called for a Santera faith healer rather than take me to a doctor or the hospital; hospitals were places people went to die I was told. I remember the strange night with that old Santera—involving incense, prayers, oils, and one seriously deep abdominal massage—then feeling better the next day. It's sad to think of how all the religious stalwarts in my family, no matter what they believed in, are gone. When my grandfather, a stoic hardworking Protestant, died, I stopped going to church and lost my faith in God. Something happened not long after seeing him in a coffin and then planted in the ground: I began thinking that the idea of a Santa Claus or God watching and judging my behavior was absurd; the final guilt-defying revelation probably occurred shortly after I learned to masturbate. You are welcomed to write this poem: "Masturbation Killed God."
Extraordinary Divine Providence—or Not.
I don't like phone conversations and I'm an introvert; so unless someone can exchange emails or talk with me in person, I usually lose touch. Planning to be more social in 2017, I emailed some distant friends and acquaintances in January to suggest having coffee. Everyone liked the idea; and this past week, I had lunch with someone I had not seen in twelve years. He's a devout Catholic; I've come to be an agnostic, so besides talking about our work and family, we had to turn to religion. The conversation lasted three hours and was tinged with emotion. During the give and take of expressing each other's beliefs, he mentioned "Providence"—glowingly when he described the role it played in finding his deeply adored wife and sustaining their marriage. They met as under- graduates in the sixties and have been together since. The story of how I met my wife and our longstanding happy marriage is not so metaphysical; but I did admit that maybe there was something a little other worldly about meeting and melding so well with someone of a different age, culture (born in Tokyo), and overcoming somewhat of a language barrier. I know: my marriage is not typical, but not that unusual either, especially if you live in New York City—there's no need to look for more than natural circumstances. Still, I have to admit that there have been moments in my life where it felt like someone was looking out for me.
Do you believe, according to Judeo-Christian theology, that a God—a one and only God—oversees and on occasion intercedes in your life?—at the very least, gives you a few signs that take you down one road rather than another? If you do not believe in this God then game over before it starts. Like I have mentioned, I am an agnostic: agnostics might want to believe in God, but for varied reasons, can or will not; this leaves me without having the conviction of a believer or an atheist. The good news: I am still in the game.
Yes, I'm in the game; likely sitting on the bench—or fence—sitting somewhere way closer to earth than heaven. Rather than believing in divine cosmologies and interventions, I believe, based on personal experience, in the very earthly phenomena of living through a succession of lucky (or unlucky) personal events; and that most people have a yearning to bring understandable meaning and order to their unpredictable—an existentialist would say—inherently meaningless organic lives. Most people I know don't want to simply think of themselves as only one water molecule in the universe? Just pondering what we're doing on earth is a little too much to handle: will I simply be just one water molecule among countless others in a Starbuck's Vanilla Grande; or find myself in a toilet bowl at a Starbucks; will I find myself chilling within a collective of other water molecules called an iceberg near the North Pole; will I just be a drop in the sea when that iceberg melts because of global warming. Scary. It's not hard to understand the need for religion.
Brushes With Buddhism
For the first time in human history, the Buddha admonished, entreated and appealed to people not to hurt a living being, and it is not necessary to offer prayer, praise or sacrifice to gods. With all the eloquence at his command the Buddha vehemently proclaimed that gods are also in dire need of salvation themselves. Thomas William Rhys Davids, as quoted in Great Personalities on Buddhism (1965) by K. Sri Dhammanda, P. 109
Buddha in a different language called men to self-forgetfulness five hundred years before Christ. In some ways he was near to us and our needs. –H.G. Wells 
Even though I lost my faith in a God, my fascination with religion continued. I began to look at religion comparatively and within the context of psychology while studying to be a counselor as an undergraduate at Queens College. I took great philosophy and religion courses with some wonderful professors like William Profriedt, Eugene Fontenelle, and Oscar Shaftel. Shaftel, a spry, skinny, seventy-something at the time—who had been black-listed during the McCarthy Era for suspicion of being a Communist—wrote "Understanding the Buddha" and sparked my interest in Buddhism so much that in 1987 I went to Japan to visit temples in Tokyo and Kamakura. Two highlights of that trip were visiting a cave filled with fearsome statues of the Eight Dharampala, (deities who protect Buddhism) and interviewing a Buddhist priest while having green tea in his living quarters. The highlight of the meeting came when I told him that after studying some of the different schools of Mahayana and Theravada Buddhism, and seeing that there are so many more, I was wondering what to believe. He calmly asked my wife (and interpreter) and me, if we had been to the top of Mount Fuji yet; Mt. Fuji is probably Japan's most iconic landmark and indeed accessible. Saying no, he simply said: "There are many paths to the top of Mt. Fuji; they all may take you there" To the point.
Vipassana meditation, as taught by S.N. Goenka, is the path that I started to take (on and off) twelve years ago after attending three ten-day silent retreats in Massachusetts and Kyoto. There is a non-sectarian simplicity and purity about what's taught by this organization, as well as a grounding in logical thinking, that makes sense to me; their volunteer teachers are not asking for leaps of blind faith or your conversion. And while they do expect some kind of donation, what and when you pay is up to you—this in itself is remarkable. This school of meditation has its critics and some still see it as an indoctrinating sect. It's hard for me to look at it this way: I've tried several temples and meditation centers before Vipassana with Goenka; and much of what I heard and saw was never on Siddhartha Gautama, the Buddha's, original agenda. His teachings were simpler for a simpler people and time (your personal practice is what mattered most to him). Over time, his original teachings were co-opted for various reasons in various places. Similarly, I, like many others, have a problem with organized Christianity because of the rules, regulations, rituals, and notions about who is and is not pious or worthy—that Jesus never expressed. Buddha came along five hundred years before Jesus; and there were Buddhist adherents in the Greek and Roman Empires prior to the founding of Christianity—some scholars can't prove it, but believe there's a good chance Jesus and/or his disciples came across and/or were influenced by Siddartha Guatama's teachings. It's hard to imagine anyone not resonating with the universal truths the Buddha was transmitting. If you are not familiar with his work yet, it's especially catchy for this age of anxiety, meaningless distractions, and impending doom. I wish it beats the odds against it and goes viral.
Can I get an Amen?   
Until next time,
keep writing.
Peace,
Andrés