Are you ready? Let's begin with Noam Chomsky sharing one prominent way that critical thought and dialogue are stunted in most U.S. television news shows. An early draft of one of my poems and a brief essay about my work with poetry workshops then follows. The subject of time runs through the text and images in this post: I rather not say more at this point and possibly spoil what you may find interesting as you move along. There does seem to be a sensible progression of components here; all may even make sense by the end. 
Noam Chomsky:
Our media here have techniques, which aren't exactly censorship, but prevent anything from being said. There is a word I learned from Ted Koppel, the anchor for Nightline, one of ABC's big news programs. He was once asked in an interview why I am never on. And he had a good answer. One reason is because Chomsky sounds like he is from Neptune; nobody can understand anything he says. And then he said another reason is that he lacks concision. What? ….it is an interesting word. What it means is: you have to talk some way that fits in between two commercials. So you can say three sentences. If you want to say in three sentences that China is a totalitarian state you can say it, you know. If you want to say the U.S. is the biggest terrorist state in the world, they are not going to stop you, but you do sound like you are from Neptune, because you are not given the next five minutes to explain it.
So you have two choices, to either repeat propaganda, repeat standard doctrine, or sound like you are a lunatic. That's about the only thing you can do. So of course it all comes out very bland. I don't think there is a program on a commercial channel where people can discuss something for half an hour.  

Noam Chomsky and Andre Vltchek, On Western Terrorism from Hiroshima to Drone Warfare, Pluto Press, London, 2013.
Within Time
I. Seed Not Speed
How to seed within this poem
without growing pedantic,
find reception-grooming
transmission, prime the pump
buried deep within this
musculature-covered cavern?
Whose heart is this anyway…
yours or mine? Will you
trip into a lord of the galaxy
craving for a quick fix?
Stop speeding to your own
destinations without first
roaming within the big & small
bangs of signed dreams
shrink-wrapped, conveniently
delivered right here.
 II. Civilized Beasts of Burden &
The Guard in The Art Museum
Art, especially abstract, is not for
everyone I discovered…watching
so many
     quickly unload themselves,
then run away
to check off the next group of
pieces on their to-do list before
lunch.
     See the framed black &
whites, the haunting black &
whites,
kept in the photo gallery I
suggest. Beyond the Great Hall
steps,
     try Nineteenth Century
European—perhaps
the painting of pears and apples,
in a silver bowl, on a villa's
kitchen table, illuminated
     by streaming rays of warm
autumn sunshine next to a plump
freshly gutted goose.
Within the American Galleries
     there is a nice handsome dark-
haired colonial patriot up on his
glistening black stallion,
nostrils flaring. You may like
     the greying grand statesman
from Virginia standing by his
immaculate stone fireplace.
But woman—wait!
     Why not let your broken down
old mule rent the audio guide he
has been begging for…
mercy.
III. Poetry Workshop DVD Day
                                                                       February 14, 2017
So, how many times have you
been handed a jack hammer or
an exploding grenade when
asking for a microscope or a pair
of eyes and ears, or a large mirror—
yes, of course, a mirror—
assuming not cracked or dust
covered (polished would be nice)?
Stop—I turn to cliché again—a
danger in preaching any time.
Still, if I hear attacks on Obama
Care & how Trump protesters
should shut the fuck up, Trump
won!, halfway through viewing
Committing Poetry in Times of
War…maybe it is time to stop
to point at your nose. My nose?
Our noses? The poem's nose?
Andrés Castro
(February 20, 2017, First Draft)
(February 25, 2017, Revised)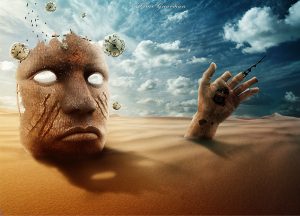 The Poetry Workshop Within Time

I have been thinking about time limitations, externally imposed and internalized, and what impact they have on the construction of dialogue and knowledge in general and particularly in poetry writing workshops; and damned if the personal is not political almost everywhere you look. Discussing one's work is a traditional workshop's main attraction; and the normal process of presenting a poem is straightforward: members present their work and then they quietly (and non-defensively) listen to what others have to say;  they then finish with their own and the teacher's closing remarks before the next person's turn; this is all done under the control of the teacher who, more or less, determines what is to be addressed and how. Instructional material, exercises, subjects, and time allotments are imposed by the teacher: the teacher is in charge of the curriculum, the syllabus, and the class. Thinking about the personal and pedagogical, I am looking at how a workshop can be teacher or student centered; on the political tip, considering power and agency: who has it, who does not and why?

So what if you do not want to run a traditional poetry writing workshop and be its expected status quo "teacher?" This sums up my desired (with much resistance from traditionally indoctrinated students) situation in one of my workshops for seniors; and given my agenda, after working with them nearly two years, I am especially thinking about what we are doing with and to each other right now. I began this group to test an experimental poetry workshop model that I researched and began to develop as my capstone project to complete the Antioch University Post-MFA program in teaching creative writing. To the chagrin of the freshly minted instructor assigned to deliver the curriculum, in the absence of the regular professor, in my mind, this research project overshadowed all else that I needed to do for my certificate. No surprise: as Frank Sinatra extols in his signature song, My Way—I had to do it.
My way included not rushing and enjoying myself no matter what: I like to think that I have a decent relationship with time and that it grows deeper and more precious every day. That I was paying a significant tuition fee made the idea of anyone sweating me and ruining my friendly relationship with time repugnant. I also grew to learn that the life of the adjunct professor (if you can snag one!) that this Post-MFA program was prepping me for is no longer so attractive. In the last 20 years, the life of an adjunct has become overwhelmingly about corporate micromanagement, school politics, poverty-level wages (with no job security or benefits!), and attacks on intellectual freedom and free speech at most colleges and universities. The spaces where you would hope critical thinking and dialogue to be naturally occurring and nurtured need constant attention; and Chomsky suggests time can be an enemy of expression, critical inquiry, and dialogue (I am also including creativity). It is a good idea to fully understand what we do with the internal and external clocks in our lives and what they do to us, We can have and make time to do things; time, obviously, can do things to us; it is all about seeing and working with the subtle details. I still have a lot of seeing and work to do. 
Probably, nothing has made me think more about the impact of time constraints on learning and creativity than completing the AULA program(ing) and my capstone critical paper, which involved giving a 20 minute presentation based on it during my final residency in Los Angeles. Two years ago, I decided to continue to do research and polish this paper; after some practice  in different settings, traditional and not, since then, I now see an opportunity to pick up where I left off by focusing on the role time plays with dialogue, creativity, poetry, and liberation in the workshop model I am exploring. Not incidentally, my AULA critical paper and presentation was titled "Dialogue to Creativity, Poetry, and Liberation."
When I presented my paper, as far as I could tell from student faces, applause, comments after the meeting, they liked it very much; my advising instructors—not so much. I was advised by a faculty member, better left nameless, during my first residency that I was getting ready for elitist territory and it would not pay to struggle against authority, because authority always wins. Apparently, I did not stick with the program in terms of expected content and delivery: an easy to digest formula and a practical immediately applicable "take-away" in 20 minutes was my task, and I delivered an animated detailed explication of my research journey and experiences in the real world that elicited more curiosity and drew more audience participation than any other presenter in that meeting. I delivered an object lesson on the kind of dialogue that I was championing for building a curriculum and syllabus cooperatively with new group members; my presentation could have been the first 20 minutes of a new workshop; and I had no reservations about sharing all pf my work's shortcomings and fantasies about possibilities for the future. Where I saw MFA students that were enthusiastically engaged and asking critical questions about the workshop model I had in mind for beginning poets, it also may have seemed like I had not learned my lesson about snubbing authority, since I was somewhat dismissive of typical classroom procedures and did not spell out a simple take-away for my evaluator(s). From the start, I had begun working on this paper not simply as an academic exercise to satisfy instructors but as something much larger and personally meaningful; and I delivered it as such. 
I may have digressed again; and be accused of not showing sufficient gratitude for my AULA experience; the truth is I can say a lot of good and some disturbing bad things about it; and one of the negative things about it has to do precisely with the issue of time. The program did make me think and work more like an academic; and the memories of having a couple of wonderful, long, and informal conversations with Alma Luz Villanueva during my first residency still warms and encourages me (her MFA students are blessed). But I still harbor some resentment for being penalized on my final transcript evaluation for taking extra time (in spite of paying nearly two thousand dollars extra in enrollment maintenance fees) to complete program requirements and so I could carry on with my own work (academic and not) without unnecessary stress. Had I known I was going to be penalized, I simply would have dropped out and returned when I was ready to continue, an option not presented to me. 
I am running out of time, so my last thought on AULA: I appreciate that the school took the time to hire a couple of student/faculty liaisons, with student progress and retention (hopefully mental health) in mind, immediately after I finished my last term. I would like to think some of my emails to faculty before leaving and my critical paper were timely and had a drop to do with this move.

Consider today's post a highly charged and scattered opening salvo on a subject I want to keep working with in theory and practice. Where does time not play a role and have an impact? Like your breathing, it pays to bring it into your awareness: it is worth mulling over; it pays to be in the right place at the right time, yes? Please let me know what you think; I appreciate all feedback and correspondence. 
Until next time,
keep writing.
Peace,
Andrés Castro