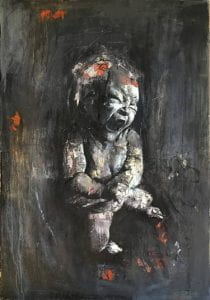 "The Crying Baby." Oil, Charcoal, Paper, Pastel on Canvas
by Tarasonoio Giovanna Mancini.
Who Delivers Who in Time?
Once upon a time a daughter and son were not normally delivered.
In this story, rather than their eager mother's creations, I delivered
them as much, if not more, to rake in this world, wanting of reason.
I am not dismissing the pain of being carried, pushed out, delivered;
however, I am daring to use this space to frame my particular reason
above a mother's rightful position. Tell me: What have you delivered
of breath and value into this world without needing a steely reason?
Consider me self-centered, angling for a way to be gently delivered;
the manure-dipped slave that cleaned up nice with a liquid reason;
who saw in manhood's mirror the fights and flights to be delivered;
today, left the pacing brittle old man seeking peace in a grey reason;
children grown, awaiting his death long distance, as if they delivered.
Until next time,
keep writing.
Peace,
Andrés Castro