The Peace Sculpture Wore

                                                                In the end the last birds
                                                                will be mocking birds.
                                                                                                             R.B.
June 11, 1963.
On a busy South Vietnamese
street, a Buddhist monk
sat like charcoal in flames
smoke, palms together in
protest of religious persecution,
as bystanders watched.
Did you know his myth—Kathleen?
How his heart found whole
was placed in a shrine?
How The New York Times would
run your story?  Soon enough
find you more or less insane?
Local reports cite
anonymous police sources saying…
evidence was found
that Ms. Kathleen Chang
experimented with cuts
of meat and flammable
liquids—for the past year.
It was the picture of you
in a bathing suit
that first stopped me.
Fifteen years of waving protest flags,
of dancing stars & stripes bikini,
of yelling social transformation
manifesto on the grounds of Penn U.
She became a fixture there some said,
not attracting the crowds she once did.
Your sad eyes seemed to watch me
as I read—you danced as I read
strutted and kicked—perhaps calling
me sexist, perhaps not.
Why October 22nd of '96?
Why Tuesday? Why choose
11:20 a.m. to walk across campus,
stand before sculptured peace
sign between two trees, pour
bucket of gasoline over your slim
build, and set yourself aflame?
…Ms. Kathleen Chang
experimented with cuts of meat
and flammable liquids.
In a letter she gave out
to local media and friends:
This is the tactically
correct move. I feel it with all
the weight of my soul.
Fifty witnesses watched,
as a university policeman tried
to smother the flames with his jacket,
but the flames started up again.
Sweet Kathleen, some said
you tried to dance.
By late afternoon
as light rain fell,
the peace sculpture wore
more than a dozen bouquets,
strands of beads,
and a poem that began:
Maybe she was crazy,
the girl said,
but I don't think so.
The last birds are
here, Kathleen.
The last birds
are here.
October, 1996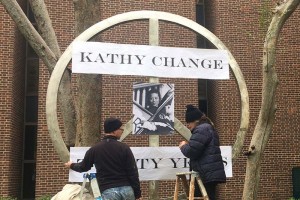 She Called Me Out
I do not trust myself: my first impulse is to romanticize and mythologize
Kathy; turn her into a world-changing metaphor: a Monarch butterfly
who flapped her wings here to create a storm, an earthquake, a revolution
over there, over time, passed when we are no longer here to believe in time.
What republic ever wants a martyr's visionary legacy to stream ahead?
No matter how delicate her wings, no one can tear them away from her:
she danced, fluttered, left in a ball of fire! Now, that spirit, sweet holy spirit,
has the run of the land. Have you ever felt her gently squeeze your shoulder,
her warm touch full of understanding and love; or has she gripped you
with her self-righteous anger? Here, my loose imagination takes over again.
I only know news reports: how jap, flat-face, chink struck her as a young girl;
a parents' divorce; a slashed wrists' response; a mother's suicide; her divorce; 
her overdosed cry; a father who dismissed a begging call; how she needed
love, understanding, to launch a revolution…looked at her death as a birth. 
I had to own her children's book, The Iron Moonhunter; see all her writing.
No matter what I read, who I speak to, she will always remain a mystery.

So this fantasy: she wants me to keep writing these poems and standing in 
public spaces sounding an alarm: we are killing ourselves without reason.
We have been positioned for slaughter by psychopathic adolescent boys
who boil us alive. Old story: rule in hell rather than serve in heaven. Strategy:
make us duck and cover. Amazing some students complained Kathy made
them watch her burn that day–how she was selfish to give them no choice.
                                                                                                                                                                0ctober, 2016

Wikipedia/Kathy_Change

Kathychange.com
Burn: The Radical Disappearance of Kathy Change. MIT Journal
SOOMI KIM · Chang(e) from 3ª via FILMS on Vimeo.
Until next time,
Keep writing,
Peace,
Andrés Castro